Advertisement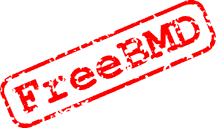 ---
Welcome to FreeBMD.

FreeBMD is an ongoing project, the aim of which is to transcribe the Civil Registration index of births, marriages and deaths for England and Wales, and to provide free Internet access to the transcribed records.

The recording of births, marriages and deaths was started in 1837 and is one of the most significant resources for genealogical research. The transcribing of the records is carried out by teams of dedicated volunteers. PLEASE NOTE: WE HAVE NOT YET TRANSCRIBED THE WHOLE INDEX.

FreeBMD is kindly sponsored by RootsWeb,
Ancestry.com and The Bunker.


---
Copyright © 1998-2006 The Trustees of FreeBMD, a charity registered in England and Wales, number 1096940.
We make no warranty whatsoever as to the accuracy and completeness of the FreeBMD data.
Use of the FreeBMD website is conditional upon acceptance of the Terms and Conditions